Description
Intuitive Mid Control
Mid-control
With the LED touch controls located in the middle of the door, it is easy to use as you don't need to bend or stretch over the top to reach the controls. It looks sleek and stylish, and delivers simple and intuitive access to the wash programs.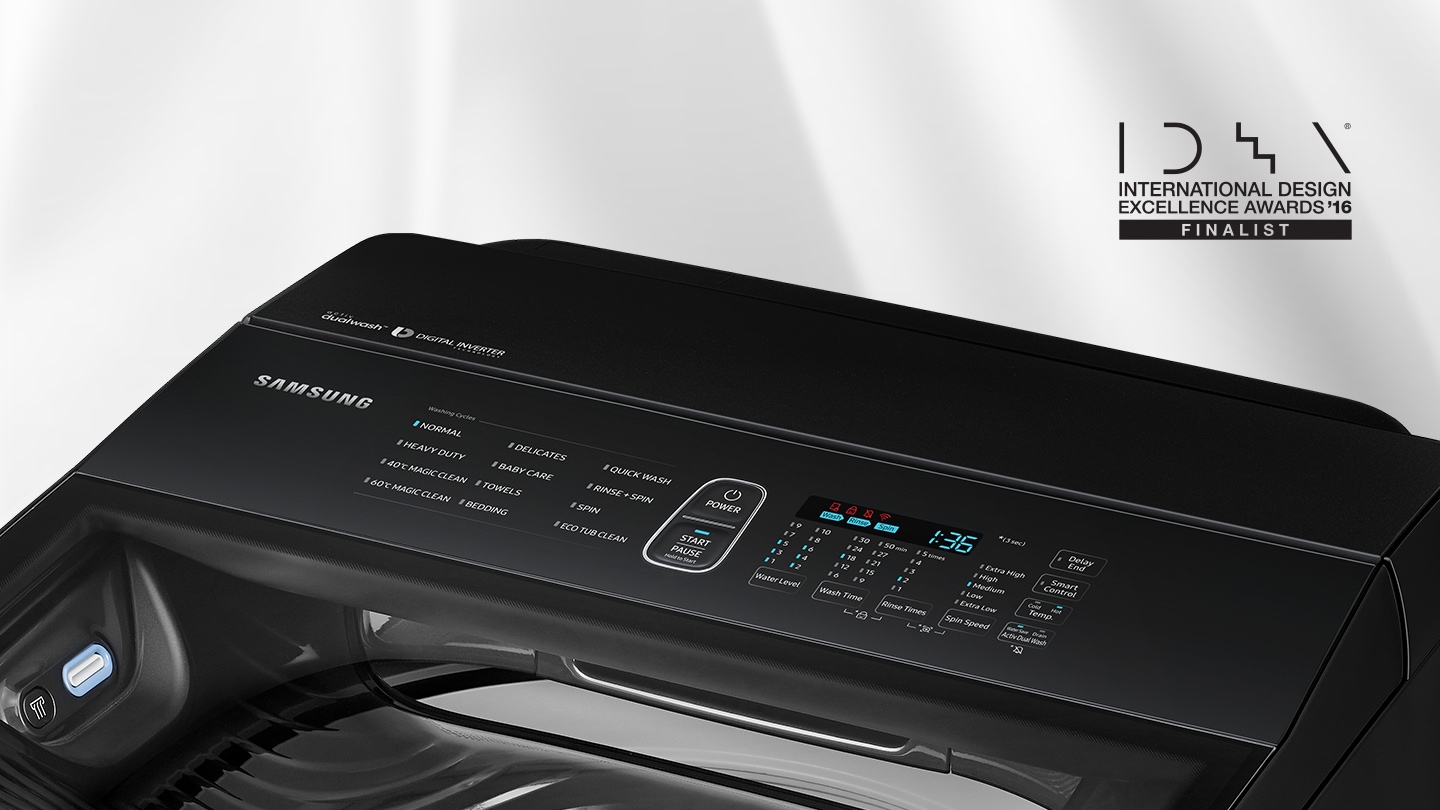 Easy pre-treatment
Activ dualwash™
Activ dualwash™ includes a built-in sink and a powerful water jet for a one stop solution to pre-treat stains or hand-wash delicate items. The new design is now much larger*, so you can wash more clothes at once.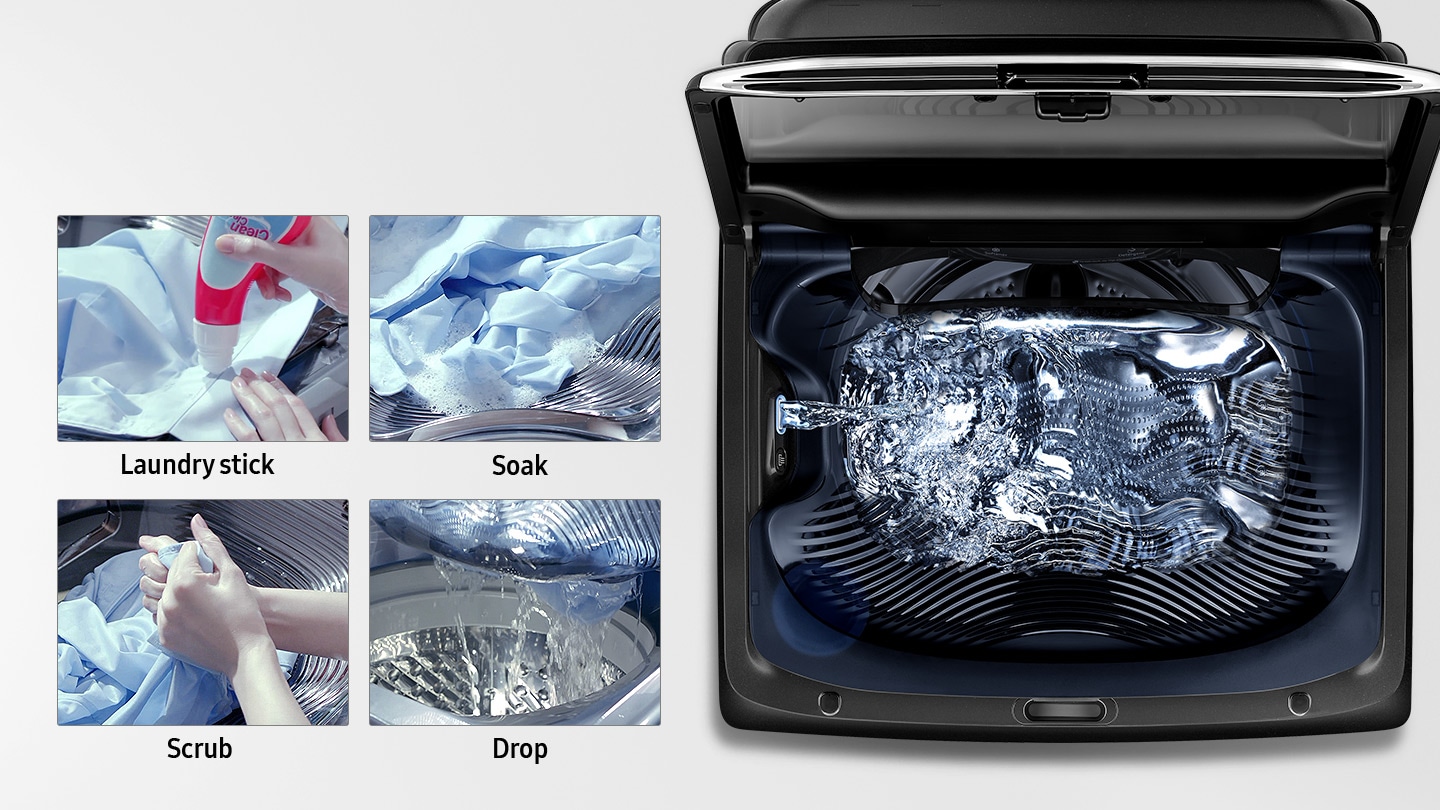 * Based on internal test, compared to WA16J6750SP.
Large Capacity
Large Capacity
Larger capacity size means fewer loads, and fewer loads means more time doing other things you love. With large capacity, you can quickly wash more laundry in a single load, saving you time and effort.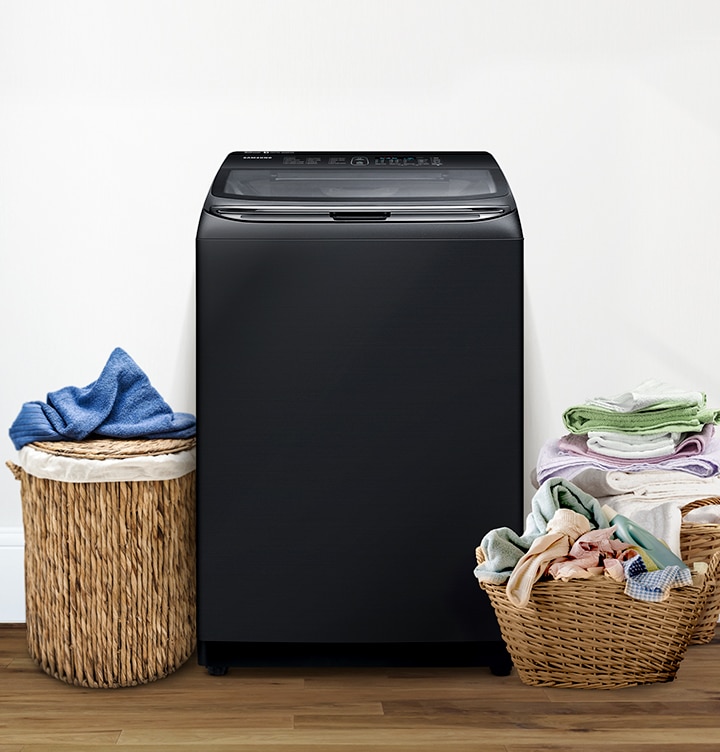 Clean clothes & drainage
Magic Filter
Magic Filter effectively traps the lint, fluff and particles that come out of your clothes. The new design has larger filter sizes, and it's also easy to clean by simply detaching and washing.
Optimal temp. control
Magic clean
Magic clean's optimal temperature control helps remove dirt and stains effectively.* Everyday marks and soiling, like sweat, can be cleaned at 40°C, and stubborn and oily stains can be removed at 60°C.**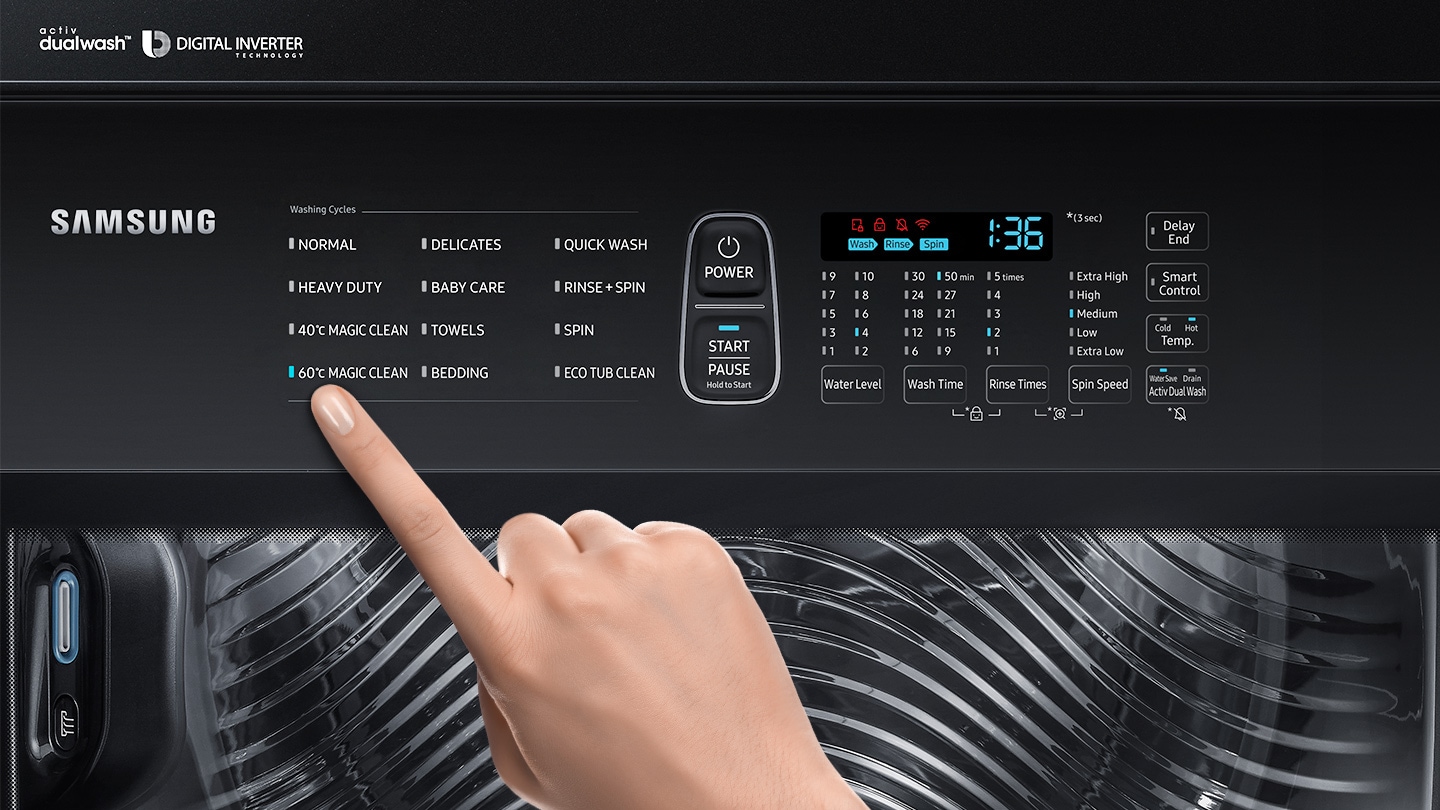 * Available when washing laundry loads up to 5kg.** Based on internal test. The optimal temperature may vary dependent on the type of clothes and condition of the stains.
40% Less Energy* & Less noise*
Digital Inverter Technology
Enjoy greater energy efficiency, less noise and a long-lasting performance. Digital Inverter Technology uses strong magnets for a quieter and more powerful performance, but consumes less energy*. It provides outstanding durability**, backed-up by a 10 year warranty.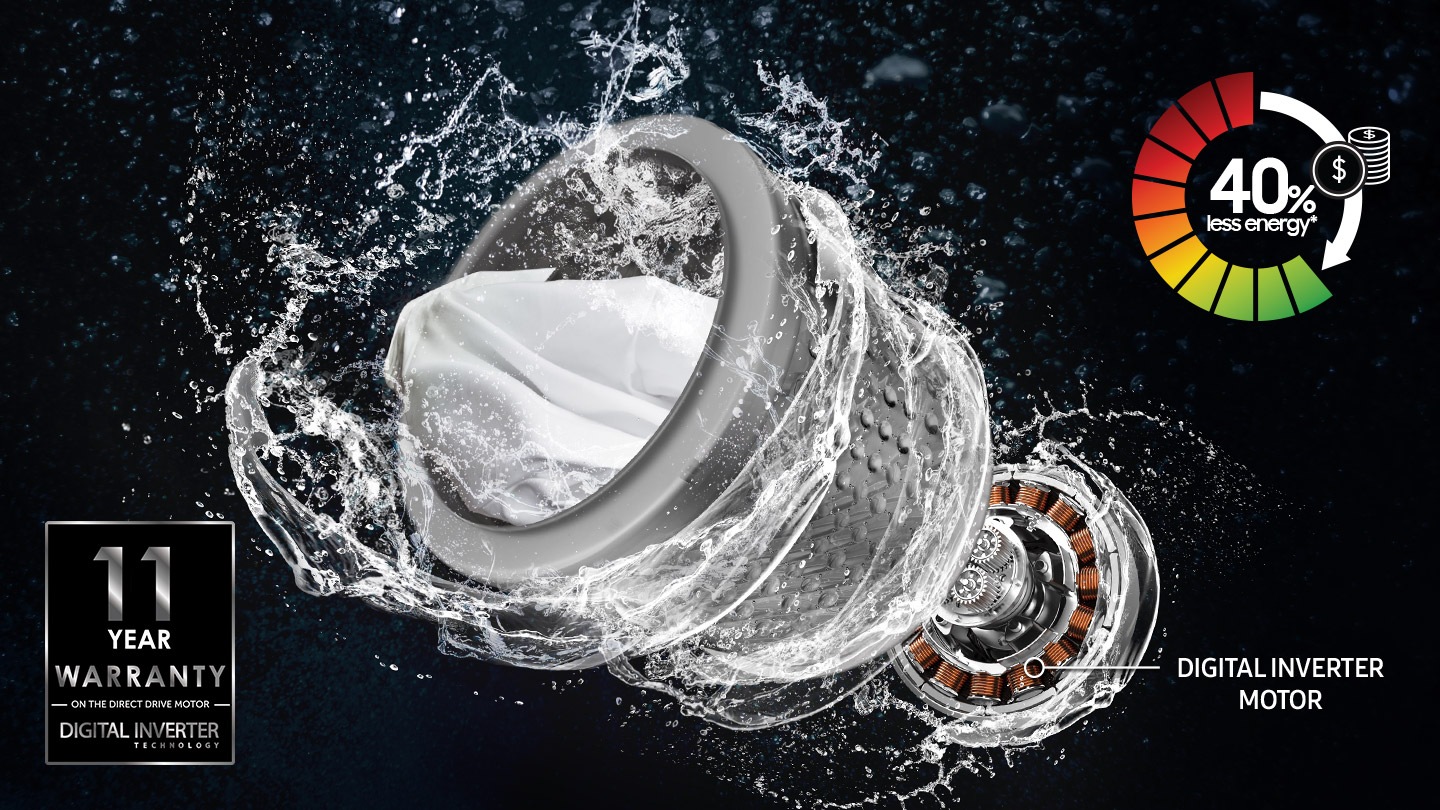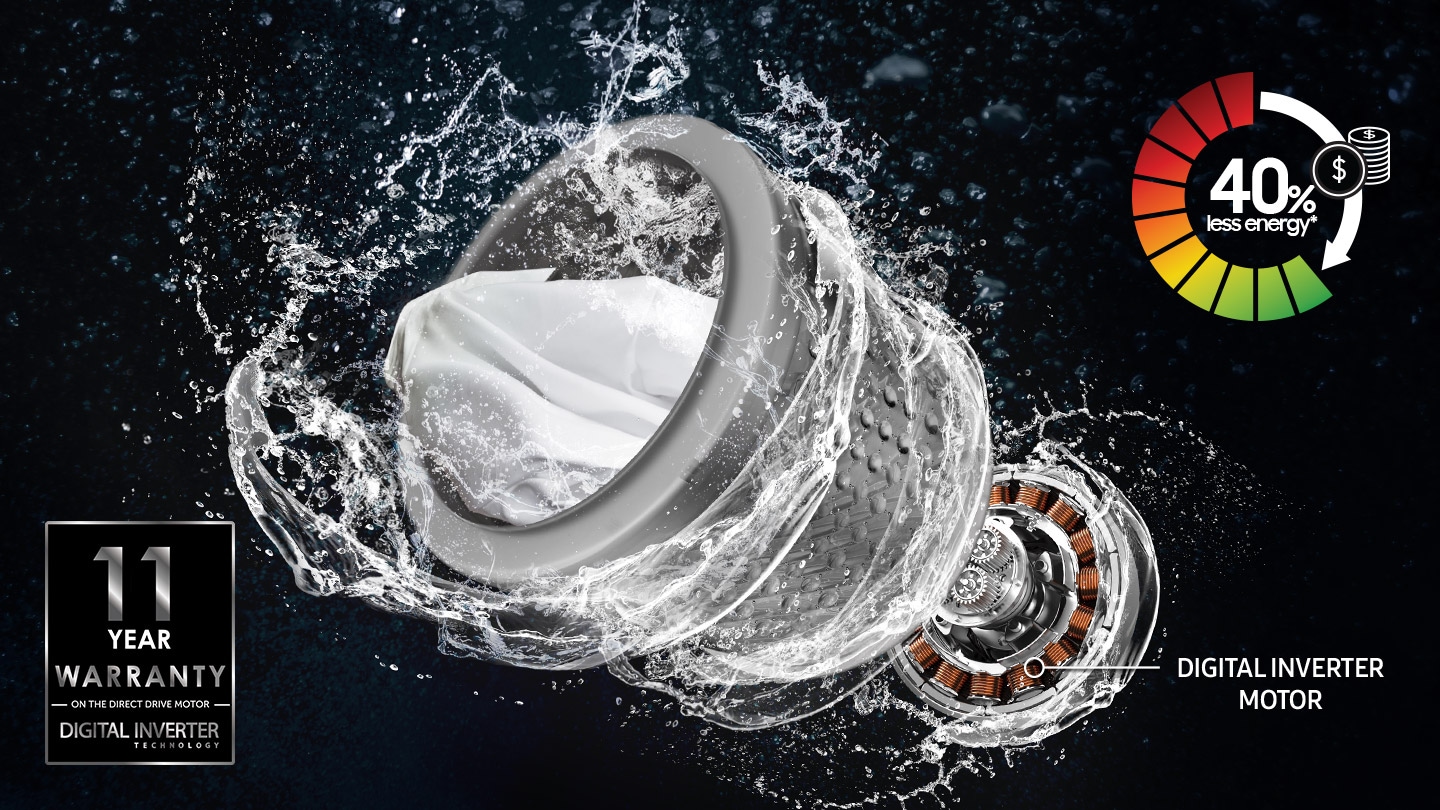 * Based on internal data, compared with Samsung conventional model.
Less noise
VRT
VRT Technology – Vibration Reduction Technology reduces noise and vibration during washes. It keeps the tub balanced even at high spin speeds, regardless of load size, so there's less disturbance.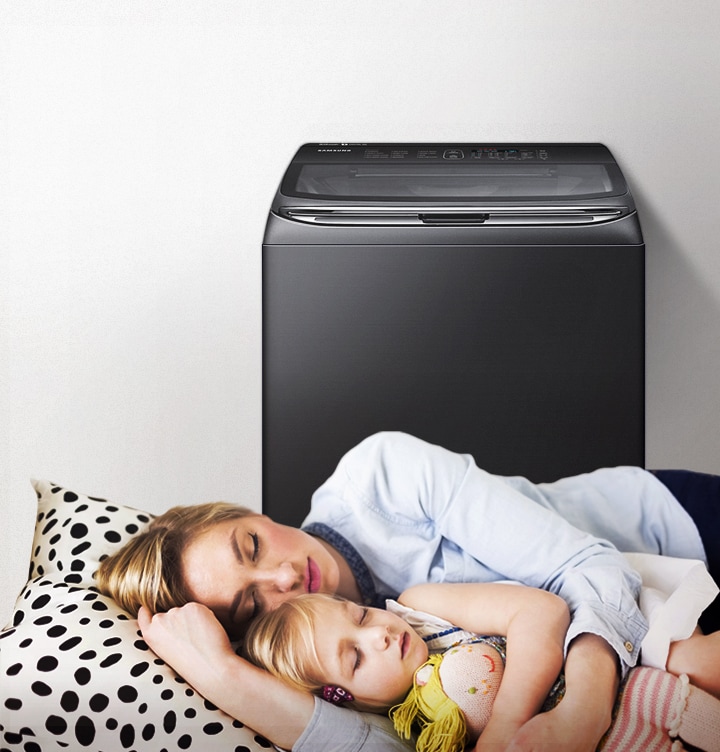 Keeps the tub clean
Eco Tub Clean
For the ultimate in convenience, Eco Tub Clean cycle keeps your top load washer fresh – without the use of harsh chemicals – through a combination of soaking, pulsating and high speed spinning. It also sends reminders to clean the tub every 20 wash cycles.
* Drum pattern may not be identical with actual product.
AI-powered laundry
SmartThings
Do your laundry more easily and effectively. SmartThings smart management system* enhances performance based on your usage patterns**.'Laundry Recipe' recommends the best wash cycles***.'Laundry Planner'optimizes your laundry schedule****.'HomeCare Wizard' enables remote troubleshooting.
* A Samsung application account is necessary and available on Android and iOS devices. A Wi-Fi connection is required. ** Stores user data, preferences and usage patterns to suggest the most useful options.*** The user will be solely responsible for any consequence(s) that may result, including but not limited to any damage or harm caused by incorrect information provided by the user.**** The recommended washing cycle is only based on time and may not be appropriate based on the type of fabric or stain level of the articles being washed.